At Tiny Tot Child Development Center we are licensed by the state of Pennsylvania to provide a safe, healthy, child-friendly environment where caring adults nurture and guide children as they participate in carefully planned play activities that are preparing our children for kindergarten. We focus on providing rich learning experiences for all children by designing environments with many materials and activities for children's hands on learning; individualizing instruction to meet the needs of each child; and involving parents as partners in the early education process for their child.
We offer full time child care (4 or 5 full days) for children ages 12 months until entry into kindergarten. We are open Monday through Friday from 6:30 am until 6:00 pm. We welcome CCIS payments for child care enrollment. Breakfast, lunch, and two snacks are offered at no additional cost and we are a peanut free facility. Please call for current rates and availability. If you would like more information about accessing financial assistance for child care costs, please call CCIS of Beaver County at 724-847-0145.
We participate in an ongoing continuous quality improvement process to evaluate our practices and make changes to better serve children and families. We have participated in Pennsylvania's quality rating system for child care centers since 2005, called Keystone STARS. We are proud to be the only child care program in Beaver County to have earned the highest rating, a STAR 4. We have maintained this rating since 2006. For more information about Keystone STARS, please visit papromiseforchildren.com.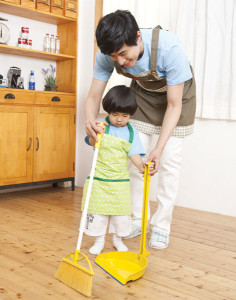 We use The Creative Curriculum from Teaching Strategies, Inc. which is a nationally recognized research based curriculum to guide our educational program for the children. The curriculum goals are aligned with the Pennsylvania Early Learning Standards. We focus on teaching children skills to prepare them for kindergarten and give them a strong start to be successful in school. Our teachers use Teaching Strategies GOLD as our assessment tool.  Progress notes are sent home three times each year and Parent/Teacher Conferences are offered along with regular communication with the teacher so that families can be a part of their child's progress.
---
Our teachers focus on the whole child and our goals for children address all aspects of development:
Social-Emotional Development focuses on children's feelings about themselves, the development of responsibility and their ability to relate positively to others.
Physical Development focuses on children's large and small muscle development that enables them to move and manipulate objects.
Cognitive Development focuses on children's thinking skills, including the development of problem solving.
Language Development focuses on children's ability to communicate through words, both spoken and written.
---
In order to provide a quality program for children, we plan special activities throughout the year and form a close partnership with families. Special program features include:
Full year programming
Inclusive program for children of all abilities
Monthly newsletter
Progress reports 3 times per year
Parent/Teacher conferences
Information parent sessions
Special center events (puppet show, Artsy Doodle, yoga, music, etc.)
Transition to kindergarten plans with local school districts
Secure entrance
---
Our classroom teachers are PA certified in Early Childhood Education, Special Education, or Elementary Education or are issued a Certificate of Competence from the PA Department of Education based on experience and professional development. We value and encourage staff to participate in ongoing professional development activities so that they stay current with new research and effective techniques.